As a versatile product with many
beneficial purposes
, baby nests quickly found their place on parents' nursery lists and made everyday life easier for many families. So,
how to use a baby nest
besides for sleeping? There are so many activities
baby nest can be used for!
Relaxation, tummy time and breastfeeding are just some of them. Today we bring you 6 ideas on how you can get the most out of your
EcoViking Babynest
in the first months of your baby's life. And make daily activities easier for yourself too!
Note: we recommend to always supervise your little one in the baby nest, no matter the activity
1. TUMMY TIME
Tummy time is a crucial everyday activity in every newborn's life as it helps develop baby's motor, visual, and sensory skills. Moreover, it aids neck muscle development so that the baby can eventually hold their head up. Baby nest is a perfect spot for tummy time, not only at home but also when you are on the go. Flat mattress is a comfortable surface for a baby to lay on their tummy, while beautiful baby nest cover patterns will catch the baby's attention. Finally, the soft elevated sides prevent the baby from rolling over!
2. PLAYTIME SPACE
Did you know that playing with your newborn has great benefits? It helps them make a meaningful connection with you they naturally seek. It also aids in learning how to talk and understand works. Playing with toys, on the other hand, encourages exploration and developmental milestones, especially in the first months of your baby's life. And what better place for playtime than a comfortable baby nest? Place it under the baby gym, on the couch or on the table and let your baby enjoy playtime in a safe and secure environment.
3. NAPPING ANYWHERE, ANYTIME
One amazing way to
use your baby nest
is as a portable napping spot. Why limit yourself only to your house? You can take your baby nest to the beach, out in the garden, use it for a quick nap in the car (while parked, of course) or when visiting friends and family. This way your baby will always have a familiar environment to sleep in and you can also be sure that he/she stays on their back without rolling over.
4. PARENT TIME
Every now and then you might feel like you need some space for yourself and that is totally normal. You might need a break from holding your baby but you still want to be close to your little one. Simply place your baby in a baby nest next to wherever you are – on the floor, couch or in bed. Hold your hand on your baby's tummy to provide that familiar and comforting feeling to your child. At the same time, the coziness of the babynest will make your baby feel safe and secure. Now, take your favourite book, watch your favourite series or simply take a few moments to rest – everyone deserves some "me" time, it makes us better parents!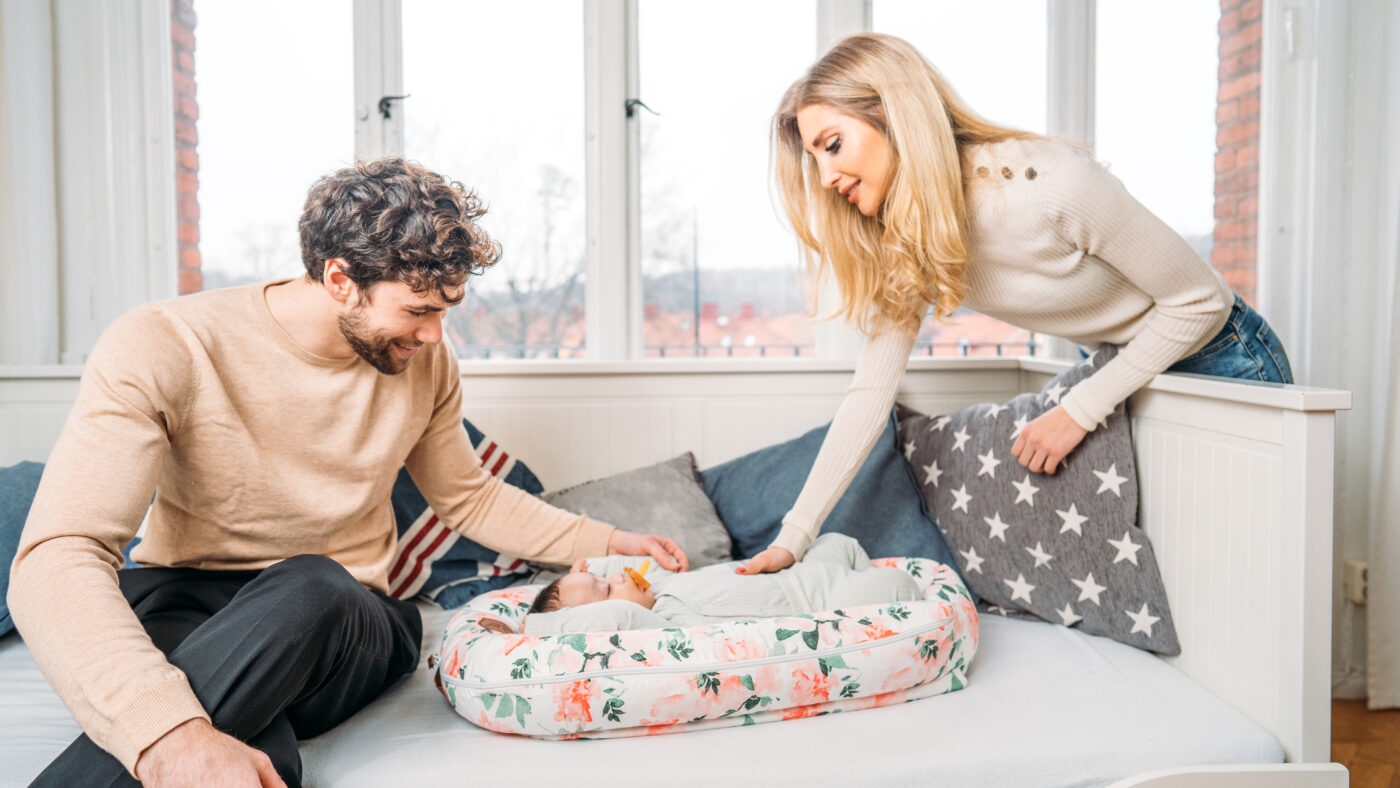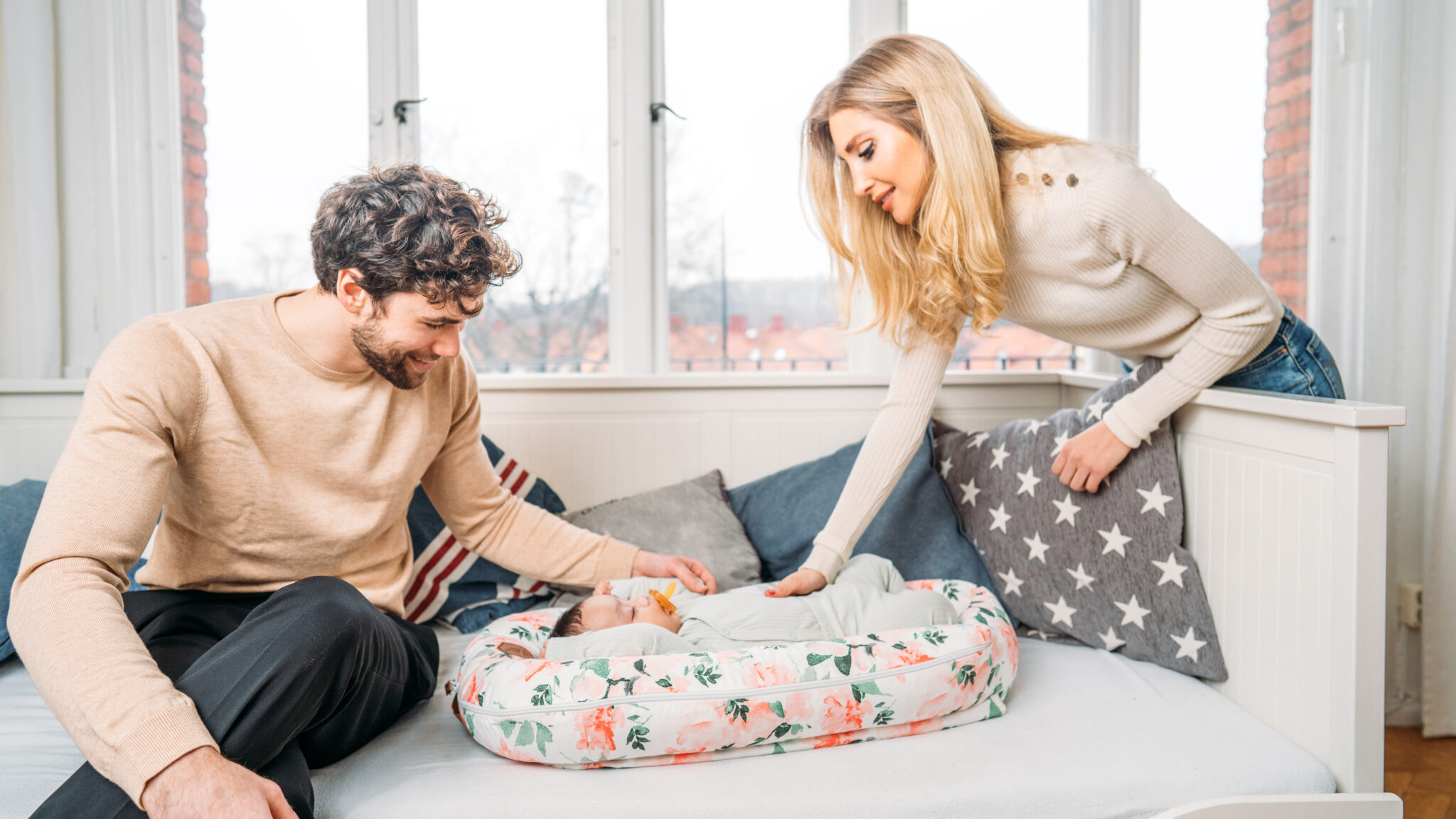 5. BREASTFEEDING
EcoViking baby nest can easily be transformed into a nursing bed you can use on the couch or in bed. Nest's edges are soft enough to fold or to lay down on which will allow you easy access to feed your little one. After the feed simply unfold the edge and let your child nap in the same spot. Sounds amazing, right?
6. DIAPER CHANGING STATION
There are never enough spots for diaper change in your surroundings! Why not add one more? After a good feed and a playtime round, simply
use a baby nest
as a changing station, instead of bringing the child to the changing table. This is also an amazing solution when you are visiting someone else's house or if you are outdoors. Don't worry about accidents, EcoViking baby nest comes with a removable cover that can be easily washed and replaced!